12 Ambassadors to Korea Partake in Service at Manmin Central Church


Manmin News

No. 175

6439

March 21, 2010
Exchange Dialogue with Senior Pastor Dr. Jaerock Lee and Visit Muan Sweet Water Aquarium in Which Saltwater and Freshwater Fish Live Together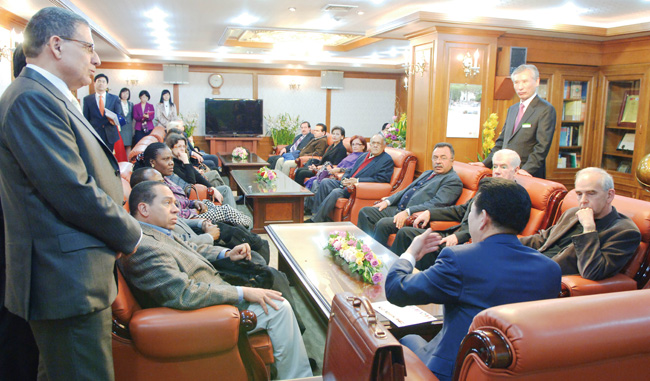 Dr. Jaerock Lee converses with 12 ambassadors to Korea in the Senior Pastor's Office on Sunday, March 7, 2010. Dr. Lee told them, "Natural disasters can be resolved by God when people, by faith, ask a man of God to intercede."

Twelve ambassadors to Korea, representing nations in Asia, Central and South America, Eastern Europe, and Africa, visited Manmin Central Church and partook in the Sunday Evening Service on March 7, 2010.
The 19-person delegation included Ambassador and Rev. H.E. Fernando Borbon of Costa Rica; Ambassador Rene Francisco Umana Chinchilla of Honduras; Ambassador Marcela Lopez Bravo of Peru; Ambassador Hector Galvan Suzana of the Dominican Republic; Ambassador Zoila del Carmen Aguirre de May of El Salvador; Ambassador Jaime Lasso del Castillo of Panama; Ambassador Guillermo Lara of Ecuador; Ambassador Rovshan Jamishidov of Azerbaijan; Ambassador Dusan Bella of the Slovak Republic; Ambassador Slobodan Marinkovic of Serbia; Ambassador Kouassi Florent Ekra of the Republic of Cote d'Ivoire; Ambassador Joao Viegas Carrascalao of East Timor; and some of their family members.
Prior to the Service (following the luncheon prepared by the Welcoming Committee), the delegation paid a visit to the Muan Sweet Water Aquarium located by the entrance to Sanctuary #2 and saw the saltwater fish and freshwater fish living side by side in one tank. The delegation was astonished by what they witnessed and confessed to have seen "a miracle."
During a meeting that took place in the Senior Pastor's Office, Dr. Jaerock Lee spoke with the delegation about recent natural disasters around the world, explained to the diplomats that "Just as we see in the Bible how rain came down and was stopped by Elijah's prayer, earthquakes, droughts, and the like can be resolved by God when His men and women are asked to intercede," and planted in their hearts faith in the Almighty God.
The delegation received a warm welcome from the congregation and partook in the Sunday Evening Service, during which it saw performances by the Men's Mission on occasion of the latter's Devotional Service and by the Arts Dance Team, and listened to the sermon message. After proclaiming the message, Senior Pastor Dr. Jaerock Lee prayed for the ambassadors and their countries. "Be with their nations, Father, and keep them," Dr. Lee prayed. "Drive away poverty and pour upon prosperity upon their nations. Give the ambassadors wisdom and discernment so that they will be faithful to their duties. Following the Service, Ambassador Hector Galvan Suzana of the Dominican Republic remarked, "I was deeply touched by today's message; it has greatly strengthened my faith." The visit by the ambassadors was made possible by H.E. Fernando Borbon, Costa Rica's Ambassador to Korea, who himself has been appointed as a missionary pastor of Manmin Central Church.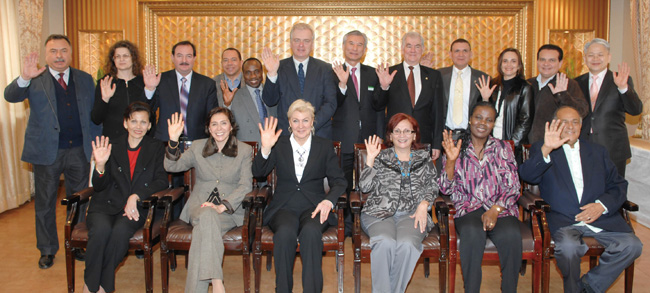 Prior to the Evening Service, 11 ambassadors (excluding Serbia's Ambassador Slobodan Marinkovic who could not attend) and their family members gathered in the Reception Room.
News

We Deliver Happiness of Life!_

Testimony

"The Lord Healed My Son's Cere